Mr. John Hubbard Kids Martial Arts Instructor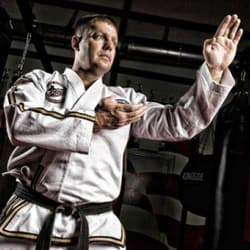 Mr. John Hubbard
Philosophy:

To always learn as much as possible about the martial arts. Continue researching and training with the greatest Martial Artists of our time. To always strive for "Constant and Never Ending Improvement", while building lifelong relationships. Share my knowledge with my students in the hopes that they will become Black Belt
Leaders. Leaders who demonstrate Confidence, Self Esteem, Courage, Discipline, Self Respect, Self Worth with a sense of peace with the knowledge that they can defend themselves or their family members if the need should ever arise. To help my students gain the knowledge and skills needed to become professional martial art instructors whom own and operate successful chains of martial arts studios. To help those who are less fortunate be able to have the opportunity to learn and enjoy the Martial Arts and to make our world a better place one Black Belt Leader at a time. JH

Related Experiences:

USTF Instructor Training Camps Years attended:1988, 1989, 1990, 1991, 1992, 1993, 1994, 1995, 1996, 1997, 1998, 1999, 2000, 2001, 2002, 2003.

* Black Belts Taekwondo.
1st degree August 7, 1986
2nd degree April 3, 1992
3rd degree December 4, 1994
4th degree April 12, 1998
5th degree April 3, 2004
6th degree June 27, 2009

*Blue Belt Brazilian Jiu-JItsu from Royce Gracie, Memphis Tn, 1999.
*Purple Belt Brazilian Jiu-Jitsu Westside MMA, Matt Hamilton & Roli Delgado October, 2010.

*Honored with black belt in Weeping Style Jiu-JItsu under Berl Parsons.

*First Annual Unified Fighting Arts Instructors Training Camp, Fayetteville, AR 1999. I was presented with my 3rd level apprentice instructor certification in the JKD system as taught by Marc McFann.

*Attendee NAPMA National Convention Held In Clear Water Florida , June 1999.

*Attendee of Seminar Taught by Judo Gene La Bell Memphis, TN.

* Member of the Board of Directors USTF 1996-2004.

* 2005, September 18th, Completed Instructor course for Haganah, F.I.G.H.T. program.

*1994 Radford University, JKD/Karate Camp, AKA Valley of The Fire Flies. My self and my assistant instructors have made numerous trips to Karate Collage.

*2014, January Hard Target Defensive Hand Gun Course level 1. Repeated this course a total of 3 times for the value of the training is unmatched. I will be participating in level 2 November 2014.

*Mr. Hubbard regularly attends seminars & training camps taught by leading instructors such as Renato Tavares, Danny Inosanto, Ajarn Chai, Joe Lewis, Henzo Gracie, Roryce Gracie, Denilson Pimenta and many, many more of the great martial artist of our time.

Achievements:

* American Grappling Federation Gold Medalist Men's 205 Purple belt division Gi, Bronze Medalist in Pro Division No Gi. October 3, 2015.

* 2001 Global Taekwondo Federation European Taekwondo men's 80-90 kilo division.

Gold medalist
(Fighting).

Bronze medalist (Patterns).

U.S.A. men's team member.

* Most Improved Martial Artist 1999. USTF.

* USTF Grand National Championship wins 1991,1992, 1993, 1994, 1995, 1996, 1999,
2000.

*Mid America Taekwondo National Champion 1992, Nashville TN.

*1996 Regional Grand Champion, Hot Springs, AR.

*1997 Korea Tour-first foreign group ever allowed admission into training program at Yong-In University Soul Korea. Home of the Korean Tigers Demonstration Team and Korean Olympic Taekwondo Team.

* 1984 Arkansas State Championships Little Rock, Ar.
1st place sparring

* 1985 Arkansas State Championships Little Rock, Ar.
1st place sparring, 2nd place patterns/Kata

*1986 Arkansas State Championships Little Rock, Ar
1st place sparring.

* I have competed in numerous other tournaments, I will update later..

*Student earned place on the Junior USA Team, Competed in Scotland. He won two Gold Medals, Forms and Sparring.

*Student earned the title National Competitor of the Year as a Red Belt competing in the Black Belt Division. She was also competing in the boys division. She tested for Black Belt at same National Event as she was presented with The National Black Belt Championship Title.

*Student earned place on Women's USA Taekwondo team competed in Canada
won two Silver medals. She is a special education school teacher and accomplished
kickboxer and Martial Artist.